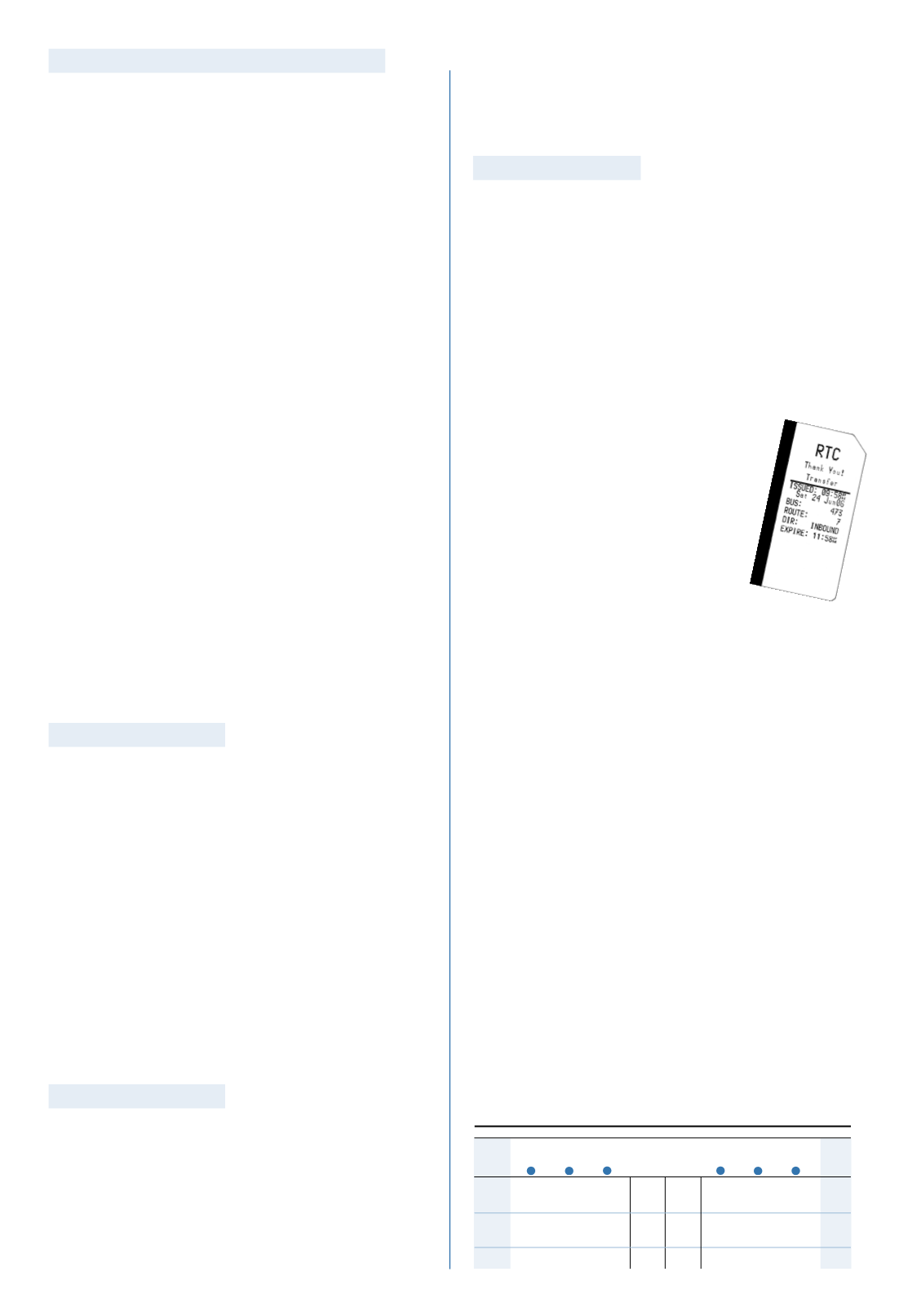 About Transfers
If the bus you are riding doesn't go to your final
destination, then you may transfer to another bus.
Transfers are free and valid for 90 minutes.
Transfers must be requested when paying
your fare and are not transferable.
not sure where or how to transfer, just ask your
Take the bus to a transfer point or to where two
routes meet. Wait for your connecting bus at
the appropriate bus stop (see System Map or
individual route maps). Valid 24-hour, 7-day and
31-day pass holders do not require a transfer.
If you have further questions about how
to transfer between buses, call RTC
348-RIDE
(348-7433) TTY 1-800-326-6868.
Limitations on Transfers
Transfer requests must be
made when paying your fare.
The farebox will time and date
stamp the transfer, identify the
expiration time as well as the route the transfer
was issued on. (See sample transfer above.)
The farebox will only accept valid transfers. If
your transfer is invalid, a full fare is required.
In the event the farebox cannot read a
transfer due to damage, it is up to the driver's
discretion to accept the transfer.
If you forget to request a transfer at the time of
boarding, a "late transfer" is available from the
driver before you exit the bus. Late transfers
are valid for only 60 minutes.
Transfers with 10-Ride Passes
your 10-ride pass, be sure to ask for a transfer at
time of boarding. This will allow you to avoid an
unnecessary use of a ride when transferring.
"Flow-Through Routes"
through or change from one route to another
route. For example, you can get on a Route 11
bus outbound, ride it to RTC CENTENNIAL PLAZA
where it changes to a Route 21 bus, and continue
to ride to east Sparks without transferring. These
are called "flow-through" routes. They are shown
on the schedule in the columns ("Comes from
Route" and "Changes to Route").
Reduced Fares Require Special I.D.
Youths, seniors and people with disabilities or
on Medicare may take advantage of discounted
fares as long as a valid identification card (I.D.) is
presented at time of boarding. Acceptable I.D.s,
may include, but are not limited to:
To show proof of age
Driver's license or DMV I.D. card
Current RTC RIDE Senior I.D. card
Current middle or high school student
Current youth or senior I.D. card issued by
To show proof of disability
Current RTC RIDE Disabled I.D. card
Current Disabled I.D. card issued by another
Current RTC ACCESS I.D. card
Reduced fare I.D. cards are free* and can be
obtained at the following locations:
RTC 4TH STREET STATION Information Booth
Located at 4th & Lake Streets, Reno
Office Hours: Monday to Friday 7 am–7 pm,
Saturday 8 am–5 pm, excluding holidays. See
Holiday Service on page 10.
*Replacement I.D. cards cost $5.00 each.
Children age five and under ride free and must
be accompanied by an adult.
RTC Centennial Plaza
information booth is open
Monday through Friday 8 am to 5 pm.
Paying Your Fare
To avoid overpayment, please have the exact
fare ready when boarding. Drivers do not carry
Overpayments are refunded with
passes and no cash back is given.
Cash, passes, and transfers can be used on all
buses. Deposit cash into the farebox, or insert
your pass into the farebox.
If you will need to
transfer, ask the bus driver for a transfer when
you pay your fare.
If you use a 24-hour, 7-day,
or 31-day pass, transfers are not needed. See
transfer section for more details.
If purchasing a 24-hour pass onboard, please
notify the driver at time of boarding
will have to prepare the farebox for your purchase
so please do not insert money before being
asked to do so
Token Transit
Smart Phone Fare Payment
RTC has partnered with Token Transit to provide
you the option of using your smart phone to
purchase and board buses. Simply download
the Token Transit app in your app store or text
"TOKEN" to 41411 for a download link. You can
store or activate passes on your phone. To board,
simply show the driver your animated pass on
C
B
A
C
B
A
ROUTE 11
your phone. It's that simple! For customer service
questions or help with Token Transit, please
415-91-TOKEN (415-918-6536).